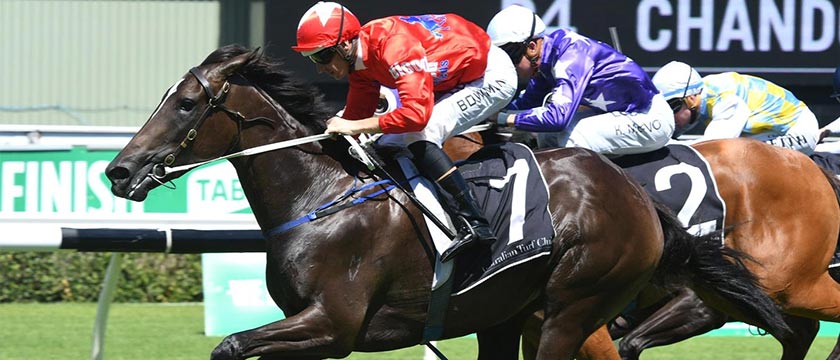 Vince Accardi: 'Beware Seabrook in Golden Rose'
While the boys have taken much of the spotlight heading into Saturday's $1m Golden Rose, sectionals analyst Vince Accardi has warned punters not to dismiss the only filly in the field, Seabrook.
The Mick Price-trained filly claimed two black-type events in Sydney during her juvenile year, the Group II Sweet Embrace Stakes (1200m) and the Group I Champagne Stakes (1600m), both at Randwick.
The daughter of Hinchinbrook returned as a three-year-old with a solid third in the Group III McNeil Stakes (1200m) on September 1.
Forensics is the only filly to have conquered the three-year-old classic since its inception in 2003, however that was in the autumn in a one-off event following the equine influenza outbreak.
"I think Seabrook is up to them," Accardi said.
"The statistics might say fillies don't do well in the Golden Rose but the reality is that we are looking at a very small sample size – it is just an aberration.
"There are just so many other factors which are more important like ground conditions, weather on the day, the ride and the race shape.
"The main reason I think she is a genuine threat is from a class level point of view.
"The data is indicating she can make the elevation to match these boys at the top of the market. She has done it before don't forget.
"There is no horse in the field with a bigger 400m sprint than this horse, they might be as good but not better – that's why this horse is dangerous.
"She can sustain a high exertion for 800m which is critical in these 1400m races."
Although beaten 3-3/4 lengths first-up behind Native Solider at Caulfield, Accardi expects the filly to springboard off that effort.
"Seabrook's best performance last campaign was at Randwick in the Group I Champagne Stakes (1600m) when beating Bondi and El Dorado Dreaming – she recorded 2-1/2 lengths above IVR (incremental velocity rating) benchmark that day," Accardi said.
"In terms of how she is trending comparing this preparation to last – she virtually recorded identical figures first-up.
"Last preparation she improved four lengths second-up and she is quite capable of doing that again.
"She is going to need to run right up to last campaign's personal best and probably improve another length but I wouldn't rule that out."
Accardi believes Seabrook profiles better than Champagne Cuddles, who produced the best recent performance for a filly in the $1m event, finishing second to Trapeze Artist last year.
"If we look at Champagne Cuddles performance last year in the Golden Rose then her performance was 2.1 lengths above IVR benchmark and I can be very confident that Seabrook has a better profile," Accardi said.
"One of the similar attributes that Champagne Cuddles had going into the Golden Rose was a dynamic 400m sprint but her performances leading into that race were about a length behind those of Seabrook's.
"So, Seabrook is going into this race with about a one length higher IVR profile and has already proven form at the distance range where Champagne Cuddles was coming from a 1200m profile."
While Accardi believes race favourite Graff is still the horse the beat, he insists that Seabrook represents genuine value.
"I think what Graff did two starts back was super, super impressive and he does look the one they have to beat but it would be foolish to ignore Seabrook and have her outside of your betting strategy," he said.
"She is going to be value because the stats are going to say she can't win – the robots aren't going to be as aggressive."
After drawing barrier four, Graff is now a clear $3.50 favourite with Bet365 while Seabrook has drawn barrier nine and is rated a $12 chance.